Tempo de leitura: menos de 1 minuto

Barrichello revives title hopes in Valencia
(CNN) — Rubens Barrichello won [venceu] the European Grand Prix in Valencia to move into [subir, alcançar] second place in the world championship title race [luta pelo título mundial] between Brawn GP teammate Jenson Button.
Barrichello denied [impediu, evitou] reigning [atual, reinante (lit.)] world champion Lewis Hamilton a second successive victory with Ferrari's Kimi Raikkonen in third place.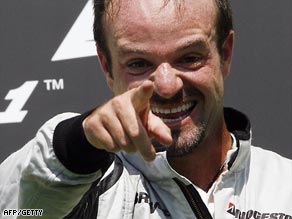 It was Barrichello's first grand prix victory for five years and lifted him ahead of [o colocou à frente de] Red Bull's Mark Webber in the championship standings [tabela, pontuação].
Button continued his indifferent [regular] recent form by finishing a distant seventh, but with Webber out of the points and the Sebastian Vettel failing [insucesso, fracasso] to finish in the second Red Bull, it completed a fruitful [frutífera] afternoon for Brawn.
It was certainly an emotional victory for the 38-year-old Barrichello, who had last won for Ferrari at the Chinese Grand Prix in 2004 and whose Formula One future looked in doubt at the end of last season [temporada].
"It's been a fantastic weekend that I will never forget, especially after five years," he said.
Heikki Kovalainen, who started on the front row [na primeira fila] of the grid with McLaren teammate and polesitter [primeiro no grid de largada] Hamilton, finished fourth with Nico Rosberg fifth for Williams.
The top six was rounded out [completado] by home hero Fernando Alonso for Renault, holding off [segurando (inf.)] Button with Robert Kubica gaining the final point for BMW Sauber.
Button tops the standings [lidera] with 72 points from Barrichello with 54 and Webber on 51 1/2.
Hamilton, who was put under pressure by a strong performance from Barrichello, saw his chances of victory disappear in a slow second pit stop, with his McLaren team appearing unprepared as he came in for fuel [combustível] and new tires [pneus].
The stop lasted [durou, levou] nearly [quase] 14 seconds and left Barrichello with a clear advantage which he never relinquished [desperdiçou].
Luca Badoer, who is replacing injured [lesionado] Ferrari driver [piloto] Felipe Massa, finished 17th and way off the pace [bem abaixo do ritmo da prova].
Seven-time champion Michael Schumacher, who had been set to come in for [que iria substituir] Massa but aborted his comeback [retorno] because of a neck injury [lesão no pescoço], watched the race from the Ferrari pit wall [muro dos boxes].