Tempo de leitura: menos de 1 minuto
Este é o quinto artigo da série "10 histórias sobre futebol e política".
5. The German nation divided, 1974
by Matthew Weiner for CNN
East Germany [Alemanha Oriental] versus West [(Alemanha) Ocidental] at the 1974 World Cup was perhaps [talvez] the most politically-charged match [a partida mais carregada de política] of all time [de todos os tempos]. After the Second World War, the divided nation [a nação dividida] had become [havia se transformado] the main arena [no principal cenário] for the Cold War [Guerra Fria], and this fixture [jogo, encontro] in Hamburg represented a head-to-head [colocava frente a frente] between the two ideologies.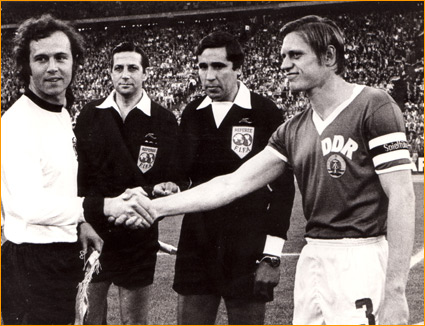 Although [Embora] the game was actually [na verdade] the last [o último] in the group and it had become clear [já estava claro] that both teams would qualify [se classificariam] from the group stage [a fase de grupos], that did not diminish the tension surrounding [envolvendo] the clash [o confronto].
Cf. Falsos Cognatos: ACTUALLY
Cf. Falsas Gêmeas: LAST x LATEST
With home advantage [Com a vantagem de jogar em casa], European champions [os campeões europeus] West Germany were favorites but it was the East German [alemão oriental] Jurgen Sparwasser who scored [marcou] the only goal of the game.
Cf. Falsos Cognatos: DUTCH
Cf. Falsos Cognatos: GERMANE
East Germany heralded [se gabaram] their triumph, but the victory was rendered [acabou sendo] a little [um pouco] hollow [vazia; sem graça; oca (lit.)] after they were knocked out [eliminados] in the next round [na fase seguinte] and their bitter rivals [eternos rivais; rivais amargos (lit.)] went on [seguiram adiante] to win the tournament [torneio].
Previous:
1. Mussolini manipulates the "man in black," 1934
2. Austrian star humiliates Nazis, 1938
3. Algerians play for independence, 1958
4. Zaire players crack under Presidential pressure, 1974
Next:
6. Argentine junta swaps grain for glory, 1978
Still to come:
7. Iran's football revolution, 1998
8. Germany enjoys "Partyotism," 2006
9. The Koreas refuse to play nicely, 2008
10. Football diplomacy between old enemies, 2008-09