Tempo de leitura: menos de 1 minuto
LONDON, England (CNN) — Brawn GP's Jenson Button has won [venceu] the 2009 Formula One drivers championship after finishing fifth [após terminar em quinto] in the Brazilian Grand Prix at Interlagos.
The 29-year-old Briton [bretão, inglês] finished ahead of [na frente] both his championship rivals [rivais] Rubens Barrichello and Sebastian Vettel, giving him an unassailable [inatingível] lead [liderança] in the championship with just one race remaining [restando, faltando].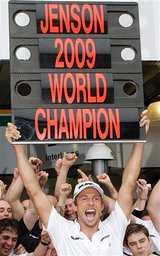 Red Bull's Mark Webber won the race with BMW's Robert Kubica finishing second.
Button's compatriot and out-going world champion [campeão mundial que "entrega" a coroa] Lewis Hamilton came home [chegou ("home" é metáfora de box)] third.
Starting from a grid position of 14th, Button made steady progress [progrediu continuamente] up the field [ganhando posições] after a series of impressive overtaking [ultrapassagem] maneuvers.
The result also means that Button's Brawn GP team have claimed [conquistou] the constructors' title.
After the race, Button told the BBC: "It's amazing. After the last few races I've had, this makes up for [compensa] it. It was such an awesome [impressionante, espetacular] race.
"21 years ago I jumped into a car and I loved winning. I never expected to be world champion in Formula One but I've done it today."
The race was full of [repleta de] incident from the start with Toyota's Jarno Trulli and Force India's Adrian Sutil nearly coming to blows [quase saindo no tapa] at the side of the track [pista] after the pair collided on lap [volta] one. The accident also took out [tirou (da pista)] Renault's Fernando Alonso.
A lap later, Kimi Raikkonen's Ferrari was caught in a flash fire [incêndio repentino] when Heikki Kovalainen sped out [saiu em velocidade] from his pit stop [parada nos boxes] with a fuel hose [mangueira de combustível] still attached [presa] to his car.
Barrichello, who started from pole, managed to avoid the chaos [conseguiu evitar a confusão] on lap one and was leading [liderava] until his first pit stop on lap 21.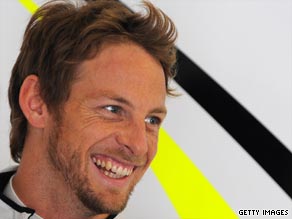 But the Brazilian lost places during the middle part of the race, while his team-mate Button was making up ground [ganhando terreno] picking off [ultrapassando] Renault's Romain Grosjean, Kamui Kobayashi — who was making his first appearance [estreando] for Toyota this season in place of [no lugar de] Timo Glock — and Sebastien Buemi in faultless fashion [de maneira impecável].
Any chance of Barrichello taking the championship to the final weekend in Abu Dhabi died eight laps from the end when lying in fourth place [quando ocupava a 4a. posição] he suffered a puncture [pneu furado]. He eventually finished down in eighth.
Sebastian Vettel, who started a lowly [modesto] 16th place did his best to try and keep his title hopes alive and eventually finished fourth.
But it was too little for the German as Button, after a series of poor finishes [maus resultados] in recent races, finally found the form he showed earlier in the season [voltou a ter o bom desempenho do início da temporada].
Você gostou do texto? Clicou nos links para conferir as outras dicas do blog? As traduções de palavras e expressões mais difíceis ajudaram na compreensão do texto? Deixe um comentário com sugestões e/ou críticas. Obrigado.