Tempo de leitura: menos de 1 minuto
Chrysler bought by Cerberus for $7.4B
Private equity firm to buy 80 percent stake [def. 6a] in U.S. automaker. Debt free at first, the company will assume billions in retiree health care costs down the line [def. 68b].
By Chris Isidore, CNNMoney.com senior writer
NEW YORK (CNNMoney.com) — DaimlerChrysler moved to undo the most expensive and one of the least successful mergers in auto industry history Monday as it agreed to sell its money-losing Chrysler unit for only a fraction of what it paid nine years ago.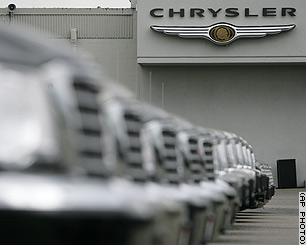 DaimlerChrysler announced it will sell an 80 percent stake in its U.S. brand for $7.4 billion to Cerberus Capital Management, a private equity investment firm.
Shares of DaimlerChrysler were up 3.5 percent in both Frankfurt and New York trading just before 10 a.m. ET, although that is off from earlier gains soon after the announcement. Shares of the company have risen more than 30 percent in the three months since it announced it was looking to sell Chrysler.
The private equity sector has become a major force in the acquisition of publicly owned companies in recent years, often buying troubled operations at a bargain price.
"We are aware that Chrysler faces significant challenges, but we are confident that they can and will be overcome," said a statement from John Snow, the chairman of Cerberus and the U.S. Treasury Secretary from 2003 to 2006. "A private investment firm like Cerberus will provide management with the opportunity to focus on their long-term plans rather than the pressures of short-term earnings expectations."
Crucial cars for Chrysler
This is not Cerberus' first entry into the troubled U.S. auto industry. Last year it bought a 51 percent stake in GMAC, the finance unit of General Motors, and it is in negotiations to become a major investor in Delphi, the world's No. 1 auto parts maker which has been in bankruptcy since October 2005.
The German automaker then known as Daimler-Benz paid $37 billion for the U.S. automaker in 1998, but it soon found itself weighed down by uncompetitive labor costs and losing sales to nimbler Japanese rivals.
Toyota Motor passed DaimlerChrysler in U.S. sales for the first time 2006, as GM, Ford Motor and Chrysler all lost money on their North American operations and announced plans to close plants and make deep cuts in staff.
The U.S.-based automakers such as Chrysler, which includes the Chrysler, Dodge and Jeep brands, have been hurt by high gasoline prices over the last year and a half; they depend much more on sales of light truck models such as SUVs, pickups and minivans, than on the more fuel efficient car models, where Japanese automakers dominate U.S. sales.
About three out of every four vehicles that Chrysler Group sells in the United States is a light truck, the highest percentage of any automaker. But sales of light trucks have seen their overall share of the U.S. market fall, to 53 percent in 2006 from nearly 56 percent in 2004.
The newly independent automaker, to be known as Chrysler Holding, will begin debt free, as its former German parent, now to be known as Daimler, assumes its debt. Daimler will also retain a 20 percent stake in Chrysler Holding.
But the U.S. automaker, which is projected to not return to profitability until at least 2008, will take with it responsibility for billions in health care coverage promised to union employees, retirees and their families, costs than are adding thousands of dollars to each automobile made in North America.
On Feb. 14, as DaimlerChrysler announced it would look at all options for Chrysler, including a possible sale, at the same time it announced plans to cut 13,000 jobs as it closes an assembly line in Delaware and a parts center in Cleveland, while it eliminates shifts at other plants. That same day the company announced that Chrysler losses reached $1.5 billion in 2006, even as DaimlerChrysler made $7.3 billion in the period.
Ford family may give up control
Chrysler attracted interest from a number of other private equity firms, as well as Canadian auto parts maker Magna International. In addition, financier Kirk Kerkorian, who had been the largest shareholder in Chrysler when it was sold to Daimler-Benz, offered $4.5 billion for Chrysler, proposing to share ownership of the company with its unions and management. But that bid never appeared to be taken seriously by DaimlerChrysler.
Still over the last three months pressure from German shareholders to dump the unit mounted in the face of the prospect for future losses in North America. At the company's annual shareholder meeting in April, major institutional shareholders pushed for a sale.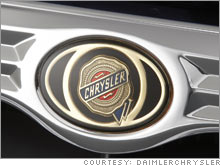 "We're confident that we've found the solution that will create the greatest overall value — both for Daimler and Chrysler," said a statement from DaimlerChrysler Chairman Dieter Zetsche. "With this transaction, we have created the right conditions for a new start for Chrysler and Daimler."
Zetsche did admit during the news conference that DaimlerChrysler had a made a mistake in overestimating the cost savings that could be obtained by combining luxury car-maker Daimler with mass-market automaker Chrysler Group. He also said that the Chrysler buyer wasn't willing to pay the premium for the advance features and technology that were being developed by Daimler for its Mercedes Benz brand.
But he defended the decision to go forward with the purchase of Chrysler, arguing that it was impossible to know the shortcomings of the combination in advance. And Zetsche, who had been in charge of Chrysler before being named chairman of the parent company last year, said it was personally very difficult for him to sell the Chrysler unit.
The United Auto Workers union, which had previously stated opposition to the sale of Chrysler to a private equity firm, issued a statement Monday backing the deal.
UAW President Ron Gettelfinger said the union leadership "concluded that the transaction with Cerberus is in the best interest of our membership, the Chrysler Group and Daimler. We are satisfied now that the decision has been made so that our membership and management can focus on designing, engineering and manufacturing the finest quality products for the future success of the Chrysler Group."
Snow said he was gratified by the support that the UAW voiced for the deal and argued that Cerberus' ownership of Delphi will be good for the union and its members since it will help Chrysler to succeed long-term.
"I think Cerberus has a good record of working with companies that are organized. We respect the role of organized labor and we appreciate the support that UAW has given this transaction," he said.
But Cerberus has seen its investment plans at Delphi stalled as management there has not been able to win a new labor deal in prolonged talks with the UAW. And the next five months will include a new round [noun, def. 2] of difficult negotiations at Chrysler over issues such as health care costs for both active employees and retirees and their families.
The UAW contracts with Chrysler, GM and Ford all expire in September. The sale to Cerebus could close about the same time, as Zetsche said it is expected to close in the third quarter.